Living the Christ Life is a one-year devotional made up of excerpts from classic authors such as Andrew Murray, Amy Carmichael, F. B. Meyer, and Corrie ten Boom. I first compiled this book in 2009 for CLC Publications; in 2022 I published a new edition of it with a foreword by Pastor Jim Cymbala of the Brooklyn Tabernacle.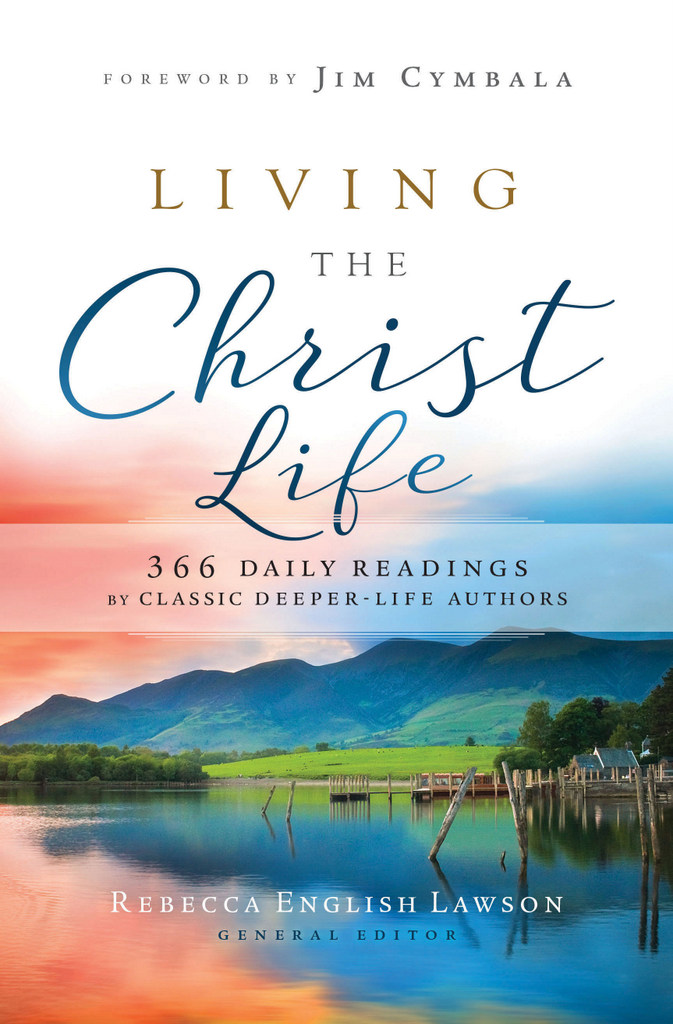 The writings in this book focus on what some call the "deeper life," the "Christ life," or, as Hudson Taylor called it, the "exchanged life." The idea is basically that as we yield to Christ and die to self, Christ fills us and works in and through us His own life. Instead of trying hard to please God in our own effort, we can rest in Jesus and let Him work through us. The result is fruit.
The authors represented in this book came from many backgrounds—Baptist, Anglican, Reformed, Pentecostal, Presbyterian, Wesleyan Methodist, the house-church movement. But they all shared a love for Christ and a desire to walk in the power of His Spirit. Their writings trace the hunger of many people throughout church history for abundant life in Christ. For those who are unfamiliar with their stories, a short biography of each author is included at the back of the book along with an index showing where each author's writings are included in the devotional.
I had a lot of support in shaping this book. The beautiful new cover and interior, featuring the landing at Keswick in the Lake District of England, where the famed Keswick Conventions took place, were created by Rob Williams of InsideOut CreativeDesign. Besides Pastor Jim Cymbala so graciously writing a foreword, a number of other pastors and ministry leaders endorsed the project (see some of their comments below). Also, Carley Boyette of Faith Focused Media conducted a great interview about the book. And several friends have made the book available through their ministries: Revival Focus, Kingsley Press, and Things Above Christian bookstore in Graham, North Carolina. I pray that Living the Christ Life will encourage believers in their walk with Jesus and help revive His church.
Living the Christ Life has been a great help to me in my attempts to walk with Christ each day. I am thankful to God that Living the Christ Life is being republished and made available to Christians who feel their need of daily inspiration from God's Word.

Jim Cymbala, senior pastor, Brooklyn Tabernacle, Brooklyn, New York
My prayer is that Living the Christ Life is one of the books that sparks another spiritual awakening—individually and corporately.

Shane Idleman, lead pastor, Westside Christian Fellowship, Lancaster, California
So many times we don't need something new—we need to go back and learn from those who have met with God in the past. From Scripture to the saints of old, this devotional stirs us again to live a life worthy of God's name, fully surrendered to Him.

Jimmy Siebert, senior pastor, Antioch Community Church, Waco, Texas
Living the Christ Life is a resource/book that all Christians will want to read over and over again. Hearing from these spiritual giants of the past will ignite insights and perspectives that they uniquely and powerfully bring.

Tommy Walker, worship leader, songwriter "He Knows My Name," Eagle Rock, California
If you desire to experience Jesus, Living the Christ Life will be used by the Spirit to nurture your faith and bring you into a greater experience of "not I, but Christ." Having read multiple daily devotionals, I believe that this one ranks with the timeless and the best.

John Van Gelderen, Revival Focus Ministries, Ann Arbor, Michigan
I cannot think of anything more encouraging than to hear from those who've gone before us the ways the Lord taught them that "living the Christ life" is not only achievable but glorious.

Dámaris Carbaugh, conference speaker, former soloist with the Brooklyn Tabernacle Choir
Living the Christ Life is a goldmine for the hungry-hearted Christian. When one finally discovers the futility of self-will and self-effort, he is ready to learn about the life of Christ within his redeemed soul.

Harold Vaughan, Christ Life Ministries, Vinton, Virginia